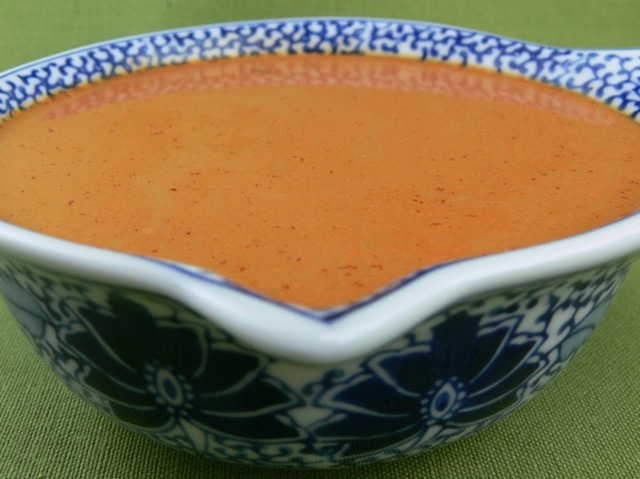 Red Curry Sauce
This recipe is is just for the sauce. If you have already made the sauce, or bought it pre-made then see the recipe for "Red Curry" (link at bottom). This recipe uses kefir lime leaves. You can buy them either dried or preserved in liquid in the International section of most grocery stores.
Makes: 2 servings
Preparation time: 5m
Cooking time: 5m
Total time: 15m
---
Ingredients:
1 tablespoon chile powder
1/4 teaspoon dried coriander
1/4 teaspoon ground cumin
1/8 teaspoon ground nutmeg
1 garlic clove (minced)
zest of 1 lime (or 1/4 tsp lime juice)
1/4 teaspoon freshly ground black pepper
4-6 kaffir lime leaves
2 cups unsweetened coconut milk
coarse salt (to taste)
---
Equipment: 1 large flat-bottomed skillet with a tall lip, or a saucepan
---
Instructions:
Whisk the coconut milk, chili powder, black pepper, coriander, cumin, nutmeg, garlic, lime leaves, lime juice or zest, and salt together in a large flat bottomed skillet or a saucepan and bring to a simmer over medium heat.
Simmer for 5-10 minutes depending on how soupy you like your red curry.
The sauce is ready to use. Either refrigerate to use later or continue to INLINE-LINK-START title="Red Curry" href="../../../recipes/red-curry" target="_blank">Red Curry INLINE-LINK-END for ingredient and cooking recommendations.